Six Barrell MPI Intake Systems by F&B Performance Engineered Products
Classic looks with modern performance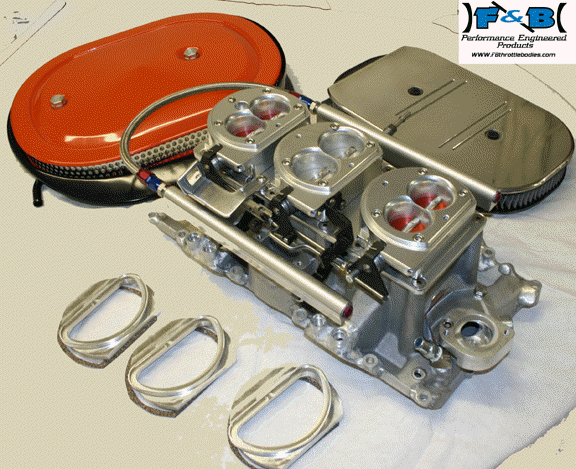 F&B Performance Engineered Products 6BBL intakes are compatible with aftermarket fuel injection systems and can be configured to "plug and play". F&B Performance intakes are port matched to OEM gaskets (or custom matched to custom gaskets) and bench ported for maximum performance. F&B's 20 years of experience makes sure your system will fit and perform out of the box. If your motor or chassis has been modified in non OEM fashion, we can provide our expertise in modifying our systems to fit your specific needs.
F&B Performance intakes come with the appropriate throttle position sensor (TPS), idle air control motor (IAC), vacuum ports for manifold air pressure (MAP) Fuel regulator vacuum compensation and positive crankcase ventilation (PCV).
F&B intakes can be ordered with various flow rates, air cleaner options, and custom finishes.

1600-2600CFM (or more!).

Compatible with all speed density multi port fuel injection systems.

Most F&B systems capable of supporting 700hp (or more!).

All systems come fully ported and ready to install.

Stainless steel linkage system provides an adjustable progressive throttle for great tip in and power "down low".

High quality custom gaskets provide excellent and long lasting seals.

Hand assembled by experienced technicians.
Hit the button below for your make and see what we've got!